Native ElderBerries
Freeze dried berries sold out. Very small amount of freeze dried elderflowers valuable: $10/ounce. Email to order, please: info@midwest-elderberry.coop. 
We are sold out of  bulk frozen elderberries, frozen raw juice, thermally dried elderberries and freeze dried elderberries.
Pre-orders for dried native elderflowers from new customers open June 1, 2020. See prices below. After June 1, please email naturalkickfarms@gmail.com. 

MEC's sustainably grown, thermally dried native elderberries are sold out because we only sell what we grow. The native dried elderberries chew like little berry kernels about the size of peppercorns. They do not need to be cooked to be enjoyed. You may add them to cereals or salads and in baking, for example. 
Naturally more reddish, North American black elderberries taste and smell better than the imports. Most dried elderberries imported from Europe are wild collected. European research found that "...wild elderberry have the lowest quantities of these bioactive compounds…" [Point #14, Functional Ingredient page] 
Our native elderberry cultivars (Sambucus nigra canadensis) are selected from the wild (including some named cultivars) and usually planted in fields following agroforestry / permaculture land management principles. They are picked, destemmed, sanitized and frozen fresh the same day in 25 lb. four gallon food grade pails (rated 28 lb.).
[Click here to read a journal article comparing European Sambucus nigra and native North American Sambucus nigra canadensis.]
Go to the bottom of the page for elderberry syrup recipes.

Visit the Midwest Elderberry Cooperative Facebook page for updates and relevant information from events to health & growing.

Bulk Dried Elderberries - 1, 2, 5 or 10 lb. 
(Prices include USA shipping & handling)
Flat rate online orders may only be made for domestic USA delivery because they are based on postage rates for that area. Total price for exceptions will be quoted in advance and invoiced upon your approval before shipping. Orders are filled in the order they are received online.  For small processors making liquid elderberry products (syrups, etc) we suggest that you try raw elderberry juice, which offers a much less processed way to make elderberry syrup. See the recipe below.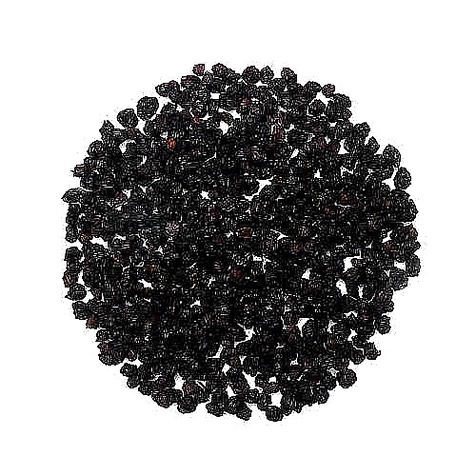 Freeze Dried Native Elderberries - $8/oz. 
We have a limited quantities available at this time.

Freeze drying generally preserves 97% of berry nutrients. It simply removes the 80% of water quickly and effectively with the least amount of nutrient degradation. Thus, it takes 5 oz./2-2.5 cups of fresh or frozen berries to make a 1 oz./1 cup pouch of freeze dried berries. 

The prices shown include shipping via USPS Priority Mail in boxes to reduce the chance of crushing. (1/27/20 cost increase)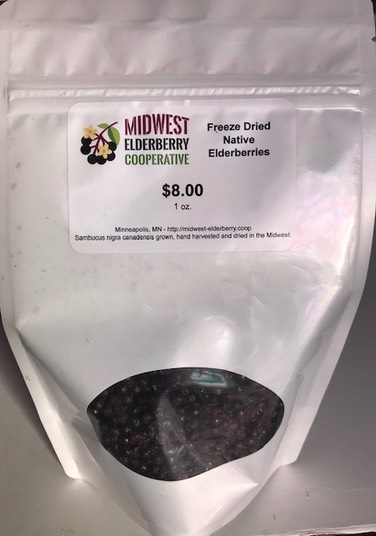 We have so few remaining ounces left that I can only accept emailed orders by previous customers for limited amounts to try to share that as fairly as possible: $8/oz. for freeze dried elderberries and $10/oz. for freeze dried elderflowers - mixed order amounts OK.
Flat rate online orders may only be made for USA delivery including Hawaii & Alaska as provided for by the USPS Priority Mail's flat rate boxes. Labels are not used on packs for orders of 6 or more oz. For larger orders of freeze dried elderberries, please email Chris Patton, info@midwest-elderberry.coop. Total price will be quoted in advance and invoiced upon your approval before shipping. We have shipped to Canada in the past by arrangement in advance. 
Customer Melissa's Comparison of Native North American Elderberries with the Imported Dried European Elderberries. 
There is also some good info on how to make syrup, gummies, etc. 
I recently purchased dried American Elderberries from Midwest Elderberry Cooperative, and I wasn't sure at the time if I would like them compared to the dried European berries I had purchased from ... in the past. Let me just say it was night and day. The European berries are dark in color and smell like a dirty sock when they are being cooked. They make my house wreak. I also can't stand the flavor of the syrup. I have to hold my nose and swallow it fast and chase it with a drink of something to cover the taste as it's going down LOL. Well the American Elderberries have a reddish color. They smelled like muscadines or grapes cooking. It filled my house with a wonderful smell. The taste is awesome as well. I could literally drink this syrup. 
I made syrup using this recipe https://franklininstituteofwellness.com/proper-elderberry-…/ and gummies (see my instructions below). I will post a photo of them in the comments. I got my 100% silicone gummy bear molds (passed the pinch test) from Amazon.com. You can get your berries and molds wherever you want. I am not promoting these websites, and I don't get any money from them. Just thought I would share for anyone interested. 
Of Note: For the recipe I started with 1 quart of water and 1/2 cup of fresh squeezed lemon juice and ended up with exactly 2 cups of syrup after it was cooked for 45 minutes (boil then simmered) and strained. Different temperatures and altitudes can change the amount of liquid needed. For exact dosing you should end up with 2 cups. After straining off the berries and the addition of the honey I ended up with roughly 3 1/2 cups of delicious elderberry syrup. I used local raw honey since my daughter has allergies. I figured why not kill two birds with one stone. I canned my syrup by using a water bath and processing for 25 minutes. This way I don't have to worry about guessing if my syrup is still good or if it is moldy in the refrigerator. 
To make the gummies I used 1 cup of the prepared elderberry syrup and added 1 oz. of gelatin. Which is (4) of the .25 oz. packets. Heated just enough to melt the gelatin since I used raw honey in the syrup I didn't want to boil or overheat the honey and lose its enzymes. Then I squirted it by the dropper into the molds. I was able to make around 60 gummies from 1 cup of syrup. I refrigerated my molds for 2 hours. They popped out perfectly. These gummy molds will hold exactly 1 teaspoon of the mixture. So 1 gummy is a child's serving and 3 gummies are an adult serving. My daughter who hated the elderberry syrup I made with European berries wanted to eat all the American Elderberry gummies when she tried them LOL. I LOVE having this recipe from The Franklin Institute so now I truly know how much Elderberry my family is actually getting in a dose.
How to Make Elderberry Syrup with dried elderberries
Search online, and you will find many recipes. Here is one of them: 
https://wellnessmama.com/1888/elderberry-syrup/

Making elderberry syrup or gummies? 
Try our Bulk Frozen Raw Juice!  See recipe on that page.
Berry harvest was only so-so, and many growers have their own on-farm businesses to take care of, which makes less available to sell to to others. Many more acres were planted in 2019, but it takes about 3-4 years before a field is producing well. Since we had nothing left from last year, we must be cautious about inventory: MEC has an obligation to supply its grower members first.
MEC supplies ingredients to the River Hills Harvest brand of elderberry products sold in a grow number of retail locations. Click here for more information.  Minimally processed River Hills Harvest brand sustainable elderberry foods & beverages are always made from native elderberry, Sambucus nigra canadensis, grown in the USA by American farmers and owned by American farmers. Not from concentrate, extracts, powders or imported elderberries in any form. We especially recommend their pure ElderBerry Juice as a good, nutrient dense alternative.
If your local natural foods store does not stock these products, have them contact me about our Direct Ship program that we use to reach out across the country where our regional distributors don't supply. Chris Patton, riverhillsharvest.marketers@gmail.com.


Bulk Frozen Raw Elderberry Juice - sold out
2 gallon jugs (priced with shipping & handling)
See Sacred Blossom Farm Syrup above. Good for wine, kombucha, jellies, vinegars & brewing, too. Perfect for elderberry jelly and gummies / home winemaking or brewing. [Winemaker comment, "I need to mix it 50% with water, or it's too thick.] See recipe for making syrup from raw frozen juice below.
Each gallon weights 8.55 lb.  Most of our inventory of raw frozen juice comes in 2 gallon increments. The jugs are not filled completely to allow room for the expansion that comes with freezing, thus a 2.5 gal. jug contains 2 gallons of frozen raw juice. For orders above two gallons, please email Chris Patton, info@midwest-elderberry.coop. You will be quoted with freight and invoiced in advance of shipping. You may call 612-418-4624 (9am-5pm Central Time during the workweek please) with questions. 
Raw elderberry juice is a by-product of our drying process. We recommend it for making wine, vinegars, kombucha, beer, syrups and other liquid products.  Compared to dried berries, juice is easier to use, more economical and creates an equal or superior end product. (pH 4.3 BRIX 11)
The frozen raw juice ships with extra packing but still generally arrives thawed or thawing.  Be ready to process juice as soon as it arrives.  Juice can be fermented or heated to above 180°F for at least a moment for longer shelf life. 
Sold out until October 2020 at the earliest.
Sacred Blossom Farm Elderberry Syrup Recipe made with Frozen Raw Native Elderberry Juice
If you want something less processed, then you can use our sustainably grown bulk, strained raw elderberry juice that separates from thawing elderberries before drying them.  pH 4.3 BRIX 11

5 lb. dried elderberries (5 x $18>$90 = 2 gal. of raw juice (2x$45>$90)
1 Gallon Raw Elderberry Juice, 4 cups honey, 2 cups extra strong echinacea tea (optional).
Bring 2 1/2 cups of water to boil and add 1 cup of echinacea herbs.  Cover and cook on low for 8 to 24 hours.  Strain. (Optional: Use distilled water.)
Boil honey hard for 2 minutes, then add raw elderberry juice and bring it to 180°F.  Remove from heat. Add echinacea tea and honey.  Stir well. 
To preserve reheat to nearly a boil (165-175°F), then seal in jars. Set in a cold area if possible.
Are Raw Native Elderberries Safe? 

Elderberry Flower Production and Cyanide Concern
Andrew L. Thomas University of Missouri Division of Plant Sciences, Southwest Research Center Mt. Vernon, MO.  This article gives a photo and graph rundown of a multi-year study investigating the whether native North American Sambucus (nigra) canadensis contains proto-cyanide glycosides in quantities sufficient to warrant specific processing requirements beyond clean harvest. 
Summary of Findings:

Picrate paper method was successfully used to assess the total cyanogenic potential.
A control test with two apple varieties showed high levels of cyanide in the seeds.
No cyanide was detected in commercial (processed) elderberry juice
Levels of cyanide detected in tissues of fresh berries were very low; lowest in juice & seeds and highest in stems & green berries.
Levels of CNG's detected with LC-MS method were very low in all tissues and consistent with picrate results.
Detected levels pose no threat to American Elderberry consumers. Excluding stems, green berries and leaves in juice preparation is recommended.
[Click here to read the full article.]
This does not seem to be true for European Sambucus nigra elderberries, which have a history of production processes to neutralize th e potential issues related to glycosides. That is why those imported ingredients are more processed and may also be part of the reason why native elderberries taste better than the European ones.
While the latest research at the university of Missouri (soon to be published) indicates that fresh/frozen, ripe elderberries do not have significant levels of glycosides, some few people seem to be strongly affected by consuming raw elderberries or elderberry juice, where it upsets their digestive system. Why they have a lower tolerance for elderberry is not clearly understood. Fresh and raw frozen berries that are fermented or heated so that the entire volume reaches 180° F, or more have not been associated with any health related incidents to our knowledge. 


Bulk Dried Elderflowers - 1 or 5 lb.
(quantities priced with shipping & handling)
Dry Elderflower production takes place on MEC (Midwest Elderberry Coop) member or affiliated farms shortly after June-July harvest.  Our elderflowers are superior to any I have ever seen commercially available.  Expertly dried in small batches, they retain their natural, angelic white color and pollen content.
How to Make Elderflower Syrup
Chef Gonzalez's Recipe for Elderflower Syrup:  This recipe has been provided for members and hobbyists. Anyone interested in the commercial use of this recipe should contact Chef Donald Gonzalez. You can find other recipes online. People also use the dried elderflowers to make elderflower syrup.