Dried American Elderflowers

Now taking orders for certified organic American Elderflowers pricing for: 1-4lb. $38; 5-19lb. $36; 20+lb. $35/lb. plus shipping. These flowers and the berries from this farm have passed organic certification for this year and past years.
We sell what we grow, and that is mostly harvested from American Sambucus (nigra) canadensis cultivars. Currently, only a few farmers plan on a flowers only crop from their elder plants. Typically, we harvest the lower part of the plant up to 36-48 inches from the ground. The lower flower cymes often do not provide as many berries per blossom, and the weight of the berries is likely to pull the cane to the ground, making them unsuitable to harvest. Picking the flowers provides some cashflow to farmers as partial compensation for good field maintenance, which is especially important when following organic agricultural methods.
Most of our growers sell both flowers and berries directly from their farm, so MEC buys any surplus from the grower and re-sells it. The potential flower harvest grows each year, nature permitting, as MEC adds members and acres cultivated. Our goal is to increase the number of cultivated elderberry acres 20x by 2025. 
We have a very limited capacity for fresh and a limited but planned-to-grow capacity for frozen native elderflower orders, and they must be placed in advance between March 1 and June 1 of each year for delivery during late June into July, when the flowers are in bloom. Arrangements are made directly with local growers. Fresh or frozen flowers are usually priced at $20/lb. plus delivery. 
Dried American Elderflower & Elderflower Ingredients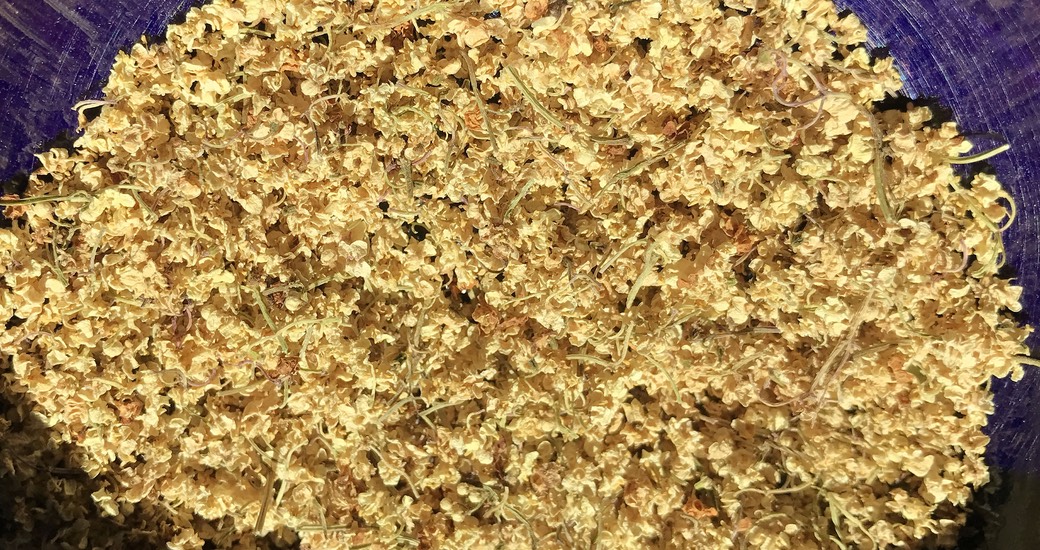 Sample of MEC's Dried Native Elderflowers
Standard Bulk packed: 1 lb. per gallon food grade plastic bag. Consumer packed: 3 oz./sealed pouch. Very large pre-orders/contracts are packed by buyer specification and charged accordingly with freight. 
MEC Buyer Direct Prices / Plus shipping
Bags: $40/lb. org. / $37/lb. sustainably grown: 1-4 pounds
Pouches: $12.00 for 3 oz. org. /  $10.00 for 3 oz. sustainably grown


MEC Bulk Direct (5-19 lb.) 
$38/lb. certified organic  (est. retail to consumer of $4-6.00 / oz.)
$36/lb. sustainably grown


MEC Bulk Direct (20+ lb.) 
$37/lb. certified organic  (est. retail to consumer of $4-6.00 / oz.)
$35/lb. sustainably grown