New orders for thermally dried American elderberries accepted. 
MEC's thermally dried, certified organic American Elderberries were grown on land that has been certified organic for years. Price reduction June 2023!
Some good news for you. Your sample of freeze-dried S. canadensis (AHP#5834) had the highest concentration of anthocyanins; 8X times higher over 10 samples tested which included S. nigra, S. cerulea. S. candadensis and S. ebulus. Weber University ran the tests…
Conducted by American Herbal Pharmacopoeia, Scots Valley, CA
Dried American elderberries chew like little berry kernels about the size of peppercorns. They do not need to be cooked to be enjoyed. You may add them to cereals or salads and in baking, for example. We only sell berries from our grower network, and we only dry our native elderberries when we have excess inventory or when the order is reserved in advance by contract. 
Avoid contamination and keep your dried elderberries sealed and dry in a cool place out of direct sunlight, and they should be good for a year. 
Thank you for following up on my inquiry.  MEC has a great product, allowing me to make some of the best elderberry syrup I've ever had.   - K.L. in CT
Dried Native Elderberries - 12% moisture.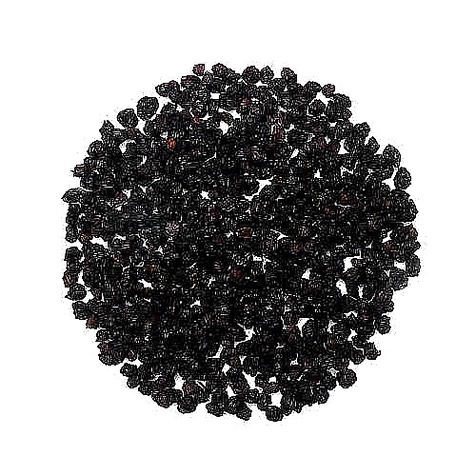 Bulk Dried Elderberries - 1,2,5,10 lb.
Order price below includes flat rate shipping  to USA addresses. 
For orders of bulk dried berries over of 50+ lb., the price drops to $23.50/lb. plus shipping. Please contact Chris Patton directly by email: info@midwest-elderberry.coop. Total price for exceptions will be quoted in advance and invoiced upon your approval before shipping. Orders are filled in the order they are received online.  
For small processors making liquid elderberry products (syrups, etc) we suggest that you try raw elderberry juice, which offers a much less processed and less labor intensive way to make elderberry syrup. See the recipe below. 
Naturally more reddish, North American black elderberries taste and smell better than the imports. Most (thermally) dried elderberries imported from Europe are wild collected. European research found that "...wild elderberry have the lowest quantities of these bioactive compounds…" [Point #14, Functional Ingredient page]
Customer Melissa's Comparison of American Elderberries with the Imported Dried European Elderberries. 
There is also some good info on how to make syrup, gummies, etc. 
I recently purchased dried American Elderberries from Midwest Elderberry Cooperative, and I wasn't sure at the time if I would like them compared to the dried European berries I had purchased from ... in the past. Let me just say it was night and day. The European berries are dark in color and smell like a dirty sock when they are being cooked. They make my house wreak. I also can't stand the flavor of the syrup. I have to hold my nose and swallow it fast and chase it with a drink of something to cover the taste as it's going down LOL. Well the American Elderberries have a reddish color. They smelled like muscadines or grapes cooking. It filled my house with a wonderful smell. The taste is awesome as well. I could literally drink this syrup. 
I made syrup using this recipe https://franklininstituteofwellness.com/proper-elderberry-…/ and gummies (see my instructions below). I will post a photo of them in the comments. I got my 100% silicone gummy bear molds (passed the pinch test) from Amazon.com. You can get your berries and molds wherever you want. I am not promoting these websites, and I don't get any money from them. Just thought I would share for anyone interested. 
Elderberry syrup recipe:  I started with 1 quart of water and 1/2 cup of fresh squeezed lemon juice and ended up with exactly 2 cups of syrup after it was cooked for 45 minutes (boil then simmered) and strained. Different temperatures and altitudes can change the amount of liquid needed. For exact dosing you should end up with 2 cups. After straining off the berries and the addition of the honey I ended up with roughly 3 1/2 cups of delicious elderberry syrup. I used local raw honey since my daughter has allergies. I figured why not kill two birds with one stone. I canned my syrup by using a water bath and processing for 25 minutes. This way I don't have to worry about guessing if my syrup is still good or if it is moldy in the refrigerator. 
To make the gummies I used 1 cup of the prepared elderberry syrup and added 1 oz. of gelatin. Which is (4) of the .25 oz. packets. Heated just enough to melt the gelatin since I used raw honey in the syrup I didn't want to boil or overheat the honey and lose its enzymes. Then I squirted it by the dropper into the molds. I was able to make around 60 gummies from 1 cup of syrup. I refrigerated my molds for 2 hours. They popped out perfectly. These gummy molds will hold exactly 1 teaspoon of the mixture. So 1 gummy is a child's serving and 3 gummies are an adult serving. My daughter who hated the elderberry syrup I made with European berries wanted to eat all the American Elderberry gummies when she tried them LOL. I LOVE having this recipe from The Franklin Institute so now I truly know how much Elderberry my family is actually getting in a dose.
The Proper Way to Make Elderberry Syrup • Franklin Institute of Wellness
Black elderberries have a rich history in herbal medicine and elderberry syrup is a must-have in any natural cold and flu medicine chest. Elderberry syrup gained significant attention in the natural health community shortly after the H1N1 flu outbreak when a study was released demonstrating its ability to effectively inhibit this widespread strain of the flu (Roschek, et.al., 2009). It is now available at just about any corner drugstore–though it can easily be made at home.